Big Wet Butts
Posted by admin | Comments Off on Big Wet Butts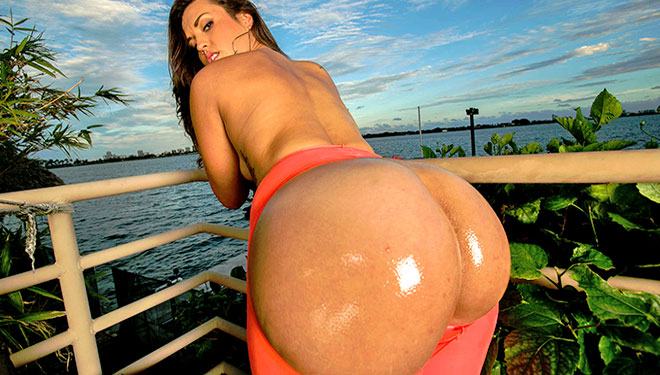 I love a big booty (more cushion for the pushin'), but when you add moisture into the mix, it takes shit to a whole nother level. There's nothing sexier than a big wet ass glistening in the sun, like a bootylicious work of art. Browsing the members area of Big Wet Butts, I see so many squeezable, bangable asses, I can hardly contain myself. What is it about a huge behind that's so appealing? It must be in our DNA. Maybe we equate big ass with health. Yeah, that's gotta be it. We see a babe with a big rump and childbearing hips and our base, animalistic side is like, "I must breed with this female!" Or could be I'm over-complicating shit, and it's just fun to watch those big cheeks clap. Also, doggy style is better when you've got something to grab onto. A skinny rear just won't do!
Anyway, where was I? Oh yeah, BigWetButts. They can't be beat when it comes to big booty anal action. You'll find all of your fave pornstars (and plenty of fresh talent as well), asses up, and ready for you to go balls deep in their tight wet booty hole. Use our discount link and save yourself a nice chunk of change 😉
Membership benefits: 452 exclusive big wet ass scenes. Bonus access to entire Brazzers network. 7000+ exclusive HD videos. Multiple daily updates. Optimized for mobile & tablet. Watch on your PS3. Free android app.
| | | | | |
| --- | --- | --- | --- | --- |
| Membership Term | Regular Price | Discounted Price | Total Savings | Monthly Price |
| 1 Month | $29.99 | $17.95 | 40% | $17.95 |
| 3 Months | $89.97 | $49.95 | 33% | $16.65 |
| 12 Months | $359.88 | $95.40 | 73% | $7.95 |
GET DEAL
Share